Innovation will drive payments in 2018
TRANSACT Conference speakers say
Innovation, new forms of standardization, and collaboration for convenience of merchant-to-consumer engagement all converged at the TRANSACT Conference in Las Vegas
By Tom Heaton, President, TrueCore Advisors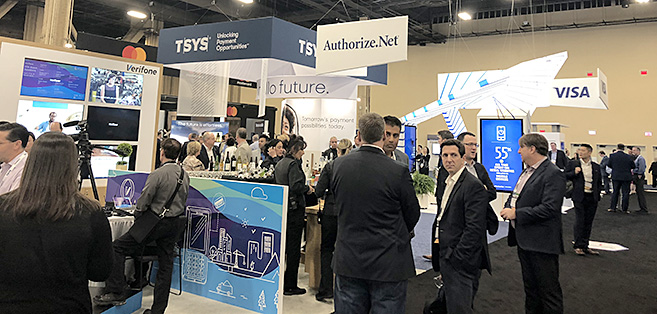 Expect innovative new software to drive payments in 2018 and beyond, according to speakers at the recent TRANSACT 2018 Conference in Las Vegas. Other prominent topics covered at the April conference, sponsored by the Electronic Transactions Association (ET), were:
New standards established for transaction processing, storage and delivery
Merchant-to-consumer engagement enhancements to elevate commerce and consumer experience
The ETA is a global trade association representing more than 500 payments and technology companies. TRANSACT included more than 200 exhibitors, 40 educations sessions and 120 speakers.
Innovation of payments and supporting software was discussed by a panel of industry experts during the Future of Commerce keynote address. Julie Pukas, head of U.S. bankcard and merchant services, TD Bank; Reetika Greewal, head of payments strategy and solutions, Silicon Valley Bank; Kim Fitzsimmons, U.S. president, Chase Commerce Solutions; and Jennifer Miles, executive vice president North America at Ingenico Inc., had an attention-grabbing exchange of ideas regarding the future of digital commerce.
The expectations related to payments have changed. Payments themselves are no longer the centerpiece, Greewal noted. Rather, she said, industry leaders are focused on optimizing the experience related to making a payment. Pukas also commented, "Every conversation about our go-to-market strategy always starts with digital," since digital commerce is now such an essential aspect of doing business.
A variety of payment innovations were unveiled through the Payments Pitch-Off! competition sponsored by Vantiv, now Worldpay. You can review descriptions of the nine Pitch-Off finalists and their groundbreaking payment solutions at http://www.electran.org/events/etatransact18/eta-announces-payments-pitch-off-startup-competition-at-transact/
The conference also highlighted new forms of standardization in transaction processing, storage and delivery. The new standardizations provide greater consistency for both in-person and online ubiquitous payments.
While new payment innovation is exciting, the industry has an ongoing need to improve industry standards to create efficiency and effectively capture, manage, store and deliver information and payment with privacy, security and consistency. This noteworthy theme came to life as Jessica Turner, executive vice president, digital payments and labs, Mastercard, participated with fellow panelists Amy Parsons, senior vice president and head of global acceptance and customer experience, Discover Financial Services; TS Anil, global head of payment processing products and solutions, Visa; and Garrett Goff, director of global payments, fraud and analytics at Netflix, as they spoke of the future of digital payments.
The panelists offered a collective endorsement of the EMVCo Secure Remote Commerce technical framework. Turner and the other card company leaders announced a plan to foster the ascendancy of EMV Payment Tokenization to streamline verification and simplification of the digital purchasing experience, while mitigating the risk of fraud. "The consumer will see a consistent experience, so that they feel safe and secure in knowing their transaction is happening as it should," Turner said.
A keynote panel provided insight into the rapidly emerging use of blockchain and distributed ledger solutions. Panelists included David Birch, director of Consult Hyperion; Guillaume Lebleu, product lead, financial technology at First Data Corporation; and Emi Yoshikawa, director, joint venture partnership, at Ripple. Speakers reported that the real value of blockchain technology is rooted in finding practical uses and deployment of distributed ledgers. "We can anticipate a wide range of value will be realized in our industry when we use blockchain technology in payments for things like credit applications and approvals," Yoshikawa said.
Another practical and valued use of blockchain technology is using distributed ledgers to audit the supply chain and end-to-end procure-to-pay cycle transactions.
Similarly, the health care industry presents us with some very practical uses of blockchain in the shared distribution of vital and life-saving information about health research. Blockchain also enhances the reliability, quality and dependability of all the critical tools of health care, particularly while they are in early stage use in clinics, hospitals and physician offices worldwide. In this regard, blockchain can drive meaningful change in the shift from the traditional fee-for-service model to the federal government's emphasis on pay-for-performance health care.
The conference also showcased a variety of new merchant-to-consumer engagement technology trends. One example is the partnerships emerging between hardware and software firms. At one of the morning keynotes, the CEO and founder of Poynt, Osama Bedier, and the CEO and co-founder of talech Inc., Irv Henderson, unveiled their collaboration to enable talech's software suite, on the payment terminals from Poynt, to unleash new capabilities for merchants to transact more than just payments on a terminal. The goal of this partnership is "to reduce business owners' stress," Henderson said. "Software, if well executed, makes that work so simple."
Today's digital payment landscape includes virtual reality (VR), as evidenced by PayScout, Inc., a firm that launched the world's first live VR payment experience with Visa Checkout. Payscout CEO Cleveland Brown noted in a private interview that "consumers seek an elevated experience not just in the exchange of payment. They also gain value from an emotional experience in the process."
Brown went on to describe the benefits recently realized by enabling non-present donors to attend a fundraising and donation event through virtual reality. The VR consumer donors were able to participate along with live donors of the event and make a virtual donation payment at the same time.
Award-winning customer relationship management (CRM) payment industry technology can be transformative, according to Dimitri Akhrin, CEO of Iris CRM, a technology firm formed in 2010. In an interview at TRANSACT, Akhirin spoke of the relevance and importance of driving new tools to the pre-sale side of the payments market. This can be done by enabling the sales management CRM process for payment technology firms.
Iris CRM was awarded the TRANSACT Technology Award because of the value offered through its set of CRM tools that are initially offered free of charge to independent sales organizations (ISOs), banks and network payment providers. One of the firm's latest advancements is Visitor Tracking, an online tool for instant and real-time alerting and tracking of the consumer's visit to a merchant's website.
Sign up today for your free subscription
Your subscription is complimentary and you may unsubscribe at any time. We will not in any manner share your information with third parties.
Subscribe, you'll stay informed on how to:
• Generate quality leads.
• Strengthen cross-selling efforts.
• Build online readership & e-mail databases.