E-mail still the best way to acquire leads
Spending on direct marketing commercial e-mail in the United States will hit $600 million in 2008, according to the Direct Marketing Association (DMA). That's a jump of about 25% over last year.
"E-mail produces the highest response rate for lead generation of direct mail methods we have studied," says Anna Chernis, Senior Research Manager at the DMA, in a recent eMarketer newsletter article. "E-mail in general is the lowest-cost way to run a campaign."
For 2008, commercial e-mail's return on investment (ROI) will be $45.65 for every dollar spent, the DMA projects. Furthermore, the incremental cost of increasing the volume of an e-mail campaign is tiny compared to increasing the volume of a print-and-mail program.
Overall, financial services firms still show a preference for traditional print-and-mail campaigns. However, an increasing number of marketers are looking at e-marketing and other media to supplement their more traditional marketing delivery channels.
Closely monitoring click-throughs and measuring other response rates — the ROI metrics most widely used by U.S. marketers, according to eMarketer.com — have made e-mail a preferred means for acquiring leads (see chart below).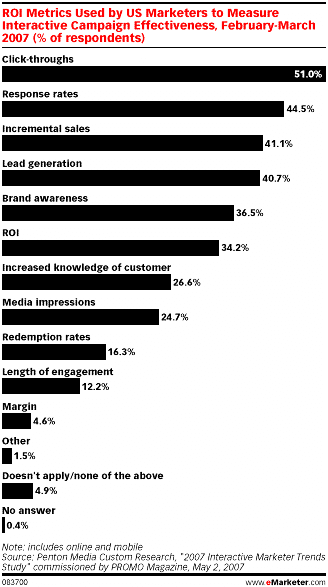 How to get an even higher ROI
New research shows an inverse relationship between the number of calls to action in an e-mail and the response rate. E-mails offering one action item generated click-throughs 55.9% of the time, soundly beating e-mails offering two calls to action, which resulted in clicks 37.2% of the time. (See chart below for details.) Meanwhile, e-mails offering three, four or five action items all resulted in click-throughs less than 5% of the time.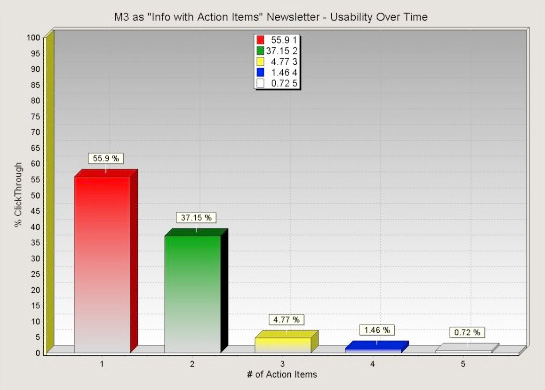 Copyright 2008 NextStage Evolution LLC
These results confirm numerous MarketingSherpa studies related to landing page design, which found that when a landing page offered a single call to action it generated a much higher click-through rate than one offering a number of different click-through options. Segmentation and personalization are keys to taking advantage of this principle in e-mail. By segmenting your audience into well-defined interest groups, you'll be able to make a single call to action to which each segment will likely respond.
Most successful content
The following bar chart reveals the varying levels of success attributed to different newsletter content models in the NextStage Evolution research. NextStage Evolution developed the chart from an evaluation of 1,400 e-mail newsletters. Researchers measured each newsletter for its effectiveness in achieving the authors' goals and noted which features caused the e-newsletter to be effective.
The researchers concluded that segment-specific content was the most effective in achieving readership and response. An example of segment-specific content would be sending retirement planning information to baby-boomers. Or you might provide segmented culture-specific content to audiences of African Americans, Asian Americans or Hispanic Americans.
"Touchpoint" e-mails — those sent simply to maintain visibility among target readers rather than generate direct sales — were almost as effective as segment-specific e-newsletters, the research indicates.
Almost equally as effective were e-mails that were information items coupled with a specific call to action. A good example of information items are thought leadership pieces or client success stories that a commercial bank business line might send to its clients.
By including in the e-newsletter a specific call to action you can greatly increase your click-through volume and better identify specific readers exhibiting a "raised buying temperature." Such click-throughs also can provide stronger proof of the effectiveness of each e-newsletter edition in comparison to other editions and in comparison to other e-publications and other marketing delivery modes (e.g., hard-copy distribution or posting HTML or PDF files to a Web site).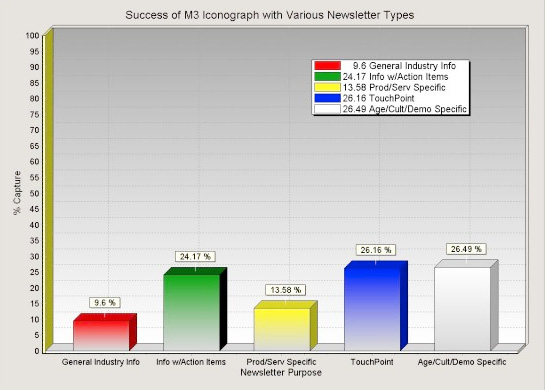 Copyright 2008 NextStage Evolution LLC
Different ways of measuring success
Most e-mail campaigns can't be measured simply by how many clicks they generate, says Hank Berkowitz, Director, Online Publishing and Business Development, for the American Institute of Certified Public Accountants (AICPA). And in terms of generating response, trust and believability are more effective than offering incentives, he says.
"We haven't seen a direct correlation between clients who are continually renewing campaigns with us and direct clicks," Berkowitz says in a recent edition of CPA Insider, the AICPA's flagship newsletter. Some of AICPA's longest-standing clients record lower click-through rates, he says.
To illustrate how financial planners interact with ads, Berkowitz and his team surveyed more than 2,000 readers of CPA Insider. Immediate click-throughs represent only a portion of an ad campaign's impact on an audience, he says. Advertising can have a significant "latent effect" on readers who don't click on ads right away. The study findings showed clicks continuing for up to 21 days from the broadcast date.
Berkowitz explains the rationale behind the delayed clicks from the newsletter: "CPAs are a conservative bunch. They're often diligent about choosing products and services. If they work in the accounting departments of large companies, they often are part of a large committee that makes buying decisions."
When CPA Insider readers were asked to rank various attributes of information that would most likely be influential in buying decisions, the top responses were believability, actionability and an interesting creative/message. This underscores the notion that B2B readers value substance more than style.