November 2005
How to acquire quality e-mail addresses
We all know the powerful impact a good e-marketing program can deliver. Yet achieving a robust e-mail address list continues to be one of the top challenges for business-to-business (B2B) marketers.
Let's say you've developed an informative, brand-building e-newsletter program for your commercial clients. The problem is you only have e-mail addresses for a fraction of your total client and prospect base. Sound familiar?
Here are some tips on building your e-mail address list without breaking your budget:
1) Make the most of daily client contact by sales representatives and calling officers.
If you can get 20 of your calling representatives to provide the names of their 50 best clients, you will have an e-newsletter database of 1,000 names. If you can average 100 addresses per banker, your database will total 2,000 addresses. (Some institutions have offered staff incentives such as prizes or other compensation).
2) Generate interest through inexpensive direct mail campaigns.
Oversized postcards can be one of the most effective and economical ways to convert your direct mail database into an e-mail database. Send the postcard to all commercial clients and prospects in advance of each e-newsletter broadcast, enticing them to subscribe. The postcard should tease the topic(s) covered in the newsletter and highlight the need-to-know information available to recipients if they subscribe. Statistics show that doing a consistent postcard notification over time can yield impressive results. (See sample postcard below.)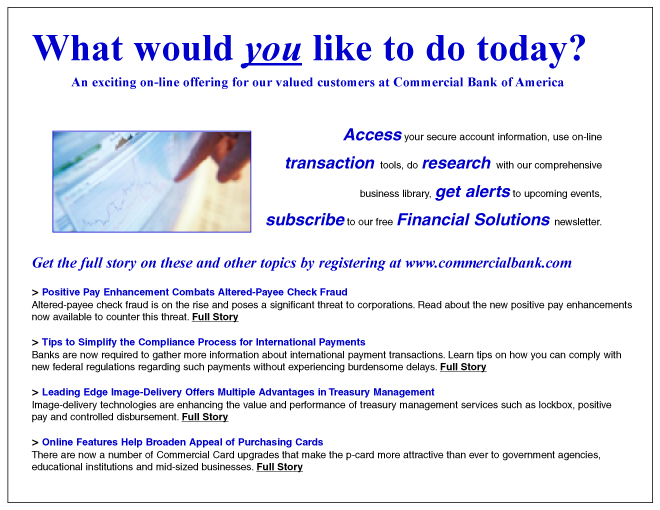 3) Capitalize on what you already send to clients and have posted online.
You can add the teaser content we discussed for postcards, combined with a few benefit statements about subscribing, to almost anything you currently send out in print or publish online. Print pieces might include invoices, reminders and product notifications. Online opportunities are many, as your Web site likely contains several pages in which it would be appropriate to promote your e-newsletter along with an e-mail address submission box. (See the FPS newsletter sign-up sample below.)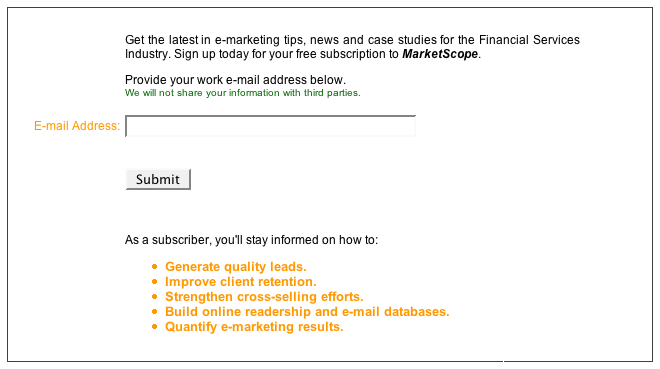 Notice that we've made it as easy as possible for prospective subscribers by simply asking them for their e-mail address. (Statistics show an increasing reluctance in the Web community to fill out detailed registration forms.)
Your "Contact Us" page is another often overlooked opportunity to promote your e-newletter. Those who take the time to contact you may be some of your hottest prospects. Take advantage of that window of opportunity. (See the FPS contact form below.)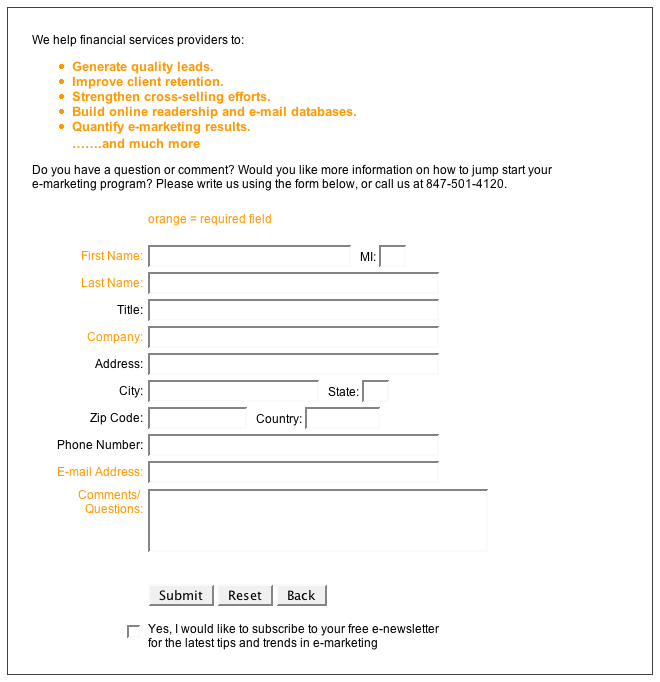 4) Leverage trade shows and seminars.
Display hard copies of one or two e-newsletter editions at your trade show booth. Make sure to include a prominent invitation to receive the newsletter online and then have those subscription forms readily available. Again, less is more in the matter of subscription forms. Simply requiring an e-mail address with a check box that says "subscribe me" will serve best.
5) Execute a telemarketing campaign.
Have a telemarketer contact your clients and request their e-mail addresses. You can provide a script that mentions the name of the client's calling officer and describes the benefits the client will enjoy as a result of receiving your e-newsletter.
Case Study: A few years ago, Financial Publishing Services (FPS) conducted a telemarketing campaign on behalf of a bank client. For the original telemarketing campaign, the bank provided a client list consisting of a company name, individual name, phone number and bank relationship manager assigned to the client company. FPS developed a script and had a professional telemarketer (you can also use an internal staff member) contact each of the 1,000 treasury management services clients on the list. We ceased calling clients after obtaining a response—an e-mail address or a "no thanks"—or after leaving three messages or voice mails without receiving a response.
The e-newsletter also was circulated to about 30 bank relationship managers. As those calling team members became more familiar with the e-newsletter's content and quality, they forwarded individual editions to clients and prospects and invited them to subscribe.
The bank's marketing team encouraged calling team members to continue this process with each of their new clients, citing the numerous benefits in raising the bank's brand awareness and shortening of the sales cycle. As a result of these collaborative and consistent efforts, the bank's e-newsletter broadcast database has now grown to nearly 10,000 addresses.
6) Encourage pass-along readership.
Invite your current subscribers to forward your e-newsletter to a colleague. This is virtually a no-cost addition to your existing newsletter in the form of a hot link. The more informative your content is, the more likely it is that your e-newsletter will be passed along.
These techniques can build your online subscriber base substantially, dramatically increase impact and bring tremendous economies of scale.
. . .
FPS regularly works with financial services companies to maximize the impact of their client communications, including e-mail and online communications. To find out how we can help you develop effective strategies for communicating with corporate financial executives, contact FPS President Vince DiPaolo at 847-501-4120 or [email protected]. You can also write him at the following address:
Financial Publishing Services Co.
464 Central Avenue
Suite 8
Northfield, IL 60093
If you are not already a MarketScope subscriber, please request your own free monthly edition.