Introduction to Social Media for B2B
You've no doubt been reading about the use of social media to generate business leads. For many of us, there are more questions than answers regarding how to go about this.
In this and the next edition of MarketScope, we'll look at B2B participation in social media and results of these efforts, and then move more specifically into examining the opportunities and challenges such media present to the financial services sector.
Testing the waters
There's been an explosion of new social media applications, and businesses are scrambling to figure out how they can integrate these new communication channels into their marketing. What started out as an entertainment-oriented medium with YouTube has become one of the more popular topics in the online business marketing space.
Ignite Social Media is an advertising and marketing agency devoted exclusively to helping companies get the most from social media. Ignite explains that while advertising and public relations are "one-way communications" with businesses talking to their customers, social media allow customers to talk as well. Social media enable companies to engage in two-way conversations with their customers in "a meaningful, manageable way," Ignite reports.
Experts agree that social media can be a powerful resource for businesses to use in branding and reputation and relationship creation, and B2B companies are brainstorming about how to harness the social media phenomenon.
Forrester finds social media for business 'imperative'
In the August issue of BtoB Magazine, Forrester analyst Josh Bernoff notes that in 2008 B2B activity on social media sites actually exceeded business-to-consumer (B2C) activity, for both content providers and content consumers. He also reports that, while planning to cut spending in traditional media in the year ahead, business marketers expect to increase spending for online video, podcasts, blogs and social media in general.
Understanding that increased spending does not necessarily translate into increased awareness, Bernoff suggests some strategies for optimizing a company's investment in social media channels. He suggests the acronym POST as a formula for establishing an effective social media strategy.
First he suggests analyzing People — how are customers spending their time in social activities?
Next consider your corporate Objective — what do you hope to accomplish as a result of your social media outreach?
Then look at Strategy — how do you see your relationships with customers evolving in the long-term?
Finally, consider Technology — pick the most suitable media strategy suggested by your findings in the first three analyses.
One of biggest mistakes businesses make is not establishing a clear business objective before launching a social media initiative, Bernoff says. He adds that businesses using social media often fail to take advantage of the opportunity to engage audiences on more than one level. For example, when posting an article or blog on a social media venue, you should include a link back to landing pages, videos or white papers that provide opportunities for prospects to continue interacting with your business.
Because of the significant time investment required to properly utilize a social media site, Bernoff suggests that businesses start small and use the start-up period to gain a deeper understanding of their target audience and its needs. While on any given site there are typically a number of relevant groups with which you might want to communicate, Bernoff recommends that you start with just one and learn "the ropes" before proceeding. That way you can avoid lost opportunities and costly mistakes.
While engaging social media requires substantial effort, businesses cannot afford to ignore this interactive marketing channel. Social media affords companies a rare opportunity to delve deeply into client and prospect relationships, to be more acutely aware of what's on customers' minds, and to use this information to increase the firm's perceived value as a trusted thought leader.
Banks must find ways to overcome the obstacles to getting more deeply entrenched in social media. That was the consensus at a recent London meeting of the Financial Services Club. Because social media encourage informal and candid exchanges, banks must find a way to address their internal compliance issues while participating in such exchanges, counsels Carl Flinders, deputy news editor for Computer Weekly, who attended the London meeting. At the same time, Flinders notes, the relationship-building opportunities, particularly among younger prospects and women, are significant enough that even those financial institutions that initially took a "wait and see" approach are now hopping on the social media bandwagon.
Survey: Social networks emerging as B2B lead-generators
DemandGen Report* recently surveyed 218 sales and marketing professionals to learn which B2B companies were using social media, how they were using them and with what results.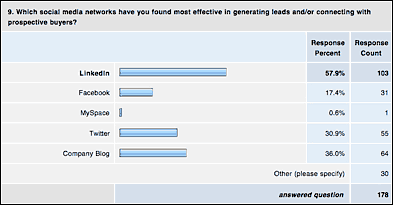 The survey, titled "The Social Strategy for Driving Demand," found that early adopters are generating between 10% and 15% of their leads through social media connections. Meanwhile, 35% of respondents expect their number of social media leads to increase by 1% to 5% over the next 12 months.
Marketing was found to be the most likely department to shepherd the lead-generation efforts.
While it's no surprise that the use of social media to generate leads is still in its infancy, some interesting statistics emerged from the DemandGen survey. LinkedIn and Twitter were the best B2B social media channels, with 58% of respondents citing LinkedIn as most effective in generating leads and connecting with prospective buyers.
Participants noted three strategies as being most effective in their lead-generation efforts: joining/participating in industry groups (25%), starting conversations on industry topics (25%), and answering questions on industry topics (23%).
Overall, less than 4% of the DemandGen survey respondents indicated that social media generates 20% or more of their leads while 72% or respondents indicated that social media accounts for less than 5% of leads.
Overcoming hurdles in the financial services space
In the next edition of MarketScope, we'll focus on the compliance issues that prevent many from participating in social media. We'll also explore ways in which financial institutions can participate without raising compliance and legal issues, and identify institutions that are using this medium successfully today. Stay tuned ...
*DemandGen Report focuses on strategies, tactics and measurements central to driving growth in sales and marketing automation.