The Financial Institution's Guide to Digital Marketing: Part 4
Video's Effect on Search Engine Rankings
With Web sites today numbering in the billions, the competition to be found by your prospects is increasingly intense. Search Engine Optimization (SEO) is a must-have, and even with it, getting a first-page ranking is difficult at best.
For now, incorporating video in your communications seems to be one way of winning a more prominent listing on search engines. Forrester Research notes that videos are 53 times more likely than text pages to appear on the first page of search results. And Web viewers are likely to spend more than three times as much time viewing a site that includes video, Forrester reported in a 2011 survey.
One reason video gets more prominent recognition is that relatively few marketers are integrating video in their communications. Because there are fewer video presentations, there is less competition for obtaining a first-page search listing than there is for a text-based report.
Video Creates High Levels of Engagement
Video holds many advantages for marketers wanting to build brand awareness and maintain an aura of being an industry thought leader. Video also can be more effective than text when showcasing complex financial products and services. According to a 2011 Brightcove study, adding video to e-mail marketing boosts customers' interaction by as much as 200-300%.
Forbes Insights, in association with Google, surveyed more than 300 C-level and senior executives at large U.S. companies ($500 million-plus in annual revenues) to learn more about how they are approaching Web video as a source of business-related information.
In the Fall 2010 study (Video in the C-Suite), nearly 60% of respondents said they would watch video before reading text on the same Web page. Meanwhile, 22% indicated that when reviewing business information, they generally preferred watching video over reading text. Three-quarters of all executives said they watched work-related videos on business Web sites at least once a week, and more than half did the same on YouTube.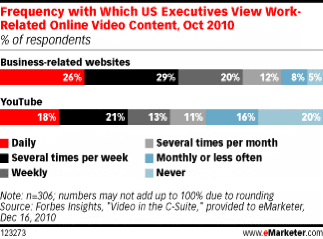 Below are the study's findings regarding the most predominant actions taken after viewing a video.
There are two types of video: streaming video and graphic-motion video. Let's look at the pros and cons of each type.
Streaming Video
Many of the B2B financial services videos you see today use streaming video to herald their brand, or to convey best practices in a variety of financial disciplines. The purpose of such videos is to draw in prospects and underscore the service provider's brand as a thought leader.
Pros of streaming video:
Videos put a name and a face to your firm's key personnel. This is a big advantage over print, since companies don't buy from companies; people buy from people.

Videotaping your clients talking about the ways in which you've helped them succeed enables you to personalize your services and increase the credibility of your case studies. At the same time, your video subtly showcases your firm's specific products or services that played a part in your clients achieving those goals. This is particularly effective when the video is aimed at the challenges germane to particular industries. Here's a sample of a client testimonial: American Express Merchant Testimonial

Streaming or live capture video is an ideal tool for re-purposing keynote addresses and other live presentations. That way clients and prospects who were not able to attend a live speaking engagement can view the video presentation in archived format.
Cons of streaming video:
In order for videos to achieve their goals, an entire team consisting of copywriters, videographers and logistics managers must collaborate in production. In addition, hours of practice are needed to ensure the video mirrors the level of professionalism the bank or other financial service provider wants to project.

Videos can be extremely costly. According to a 2010 survey of 200 marketing executives, by the Video Marketing Council, the top barrier to using video in their marketing mix was cost. The second objection was difficulty of implementation. At the same time, 73% of those surveyed felt incorporating video into their e-mail marketing mix would significantly increase their conversion rates, compared to standard text e-mail marketing alone.

If you use a "talking head" approach, unless your speaker is extremely gifted, you will have difficulty holding the attention of busy decision-makers. Other factors causing viewers to tune out include poor audio or video quality, the presentation running longer than the optimal 2 to 3 minutes, or viewers seeing the same "talking head" image of the speaker throughout the video without any other image to provide visual relief.
Graphic-Motion Video
A graphic-motion video consists of text and graphics animation, with the option of music and/or narration to create a custom audio/visual experience.
Pros of graphic-motion video:
This type of video is ideal for clarifying what would otherwise be a complex or confusing service or concept. Here's a sample of a graphic-motion video: Take A Tour of FPS Clients and Services

Graphic-motion video is an effective vehicle for providing a demo of a bank product or service. Here's a sample of using this technology for a bank service demo: Why Use Remote Deposit?

You can take demos one step further, using live screen-capture software, such as Adobe Captivate, to illustrate step-by-step how to use a particular product or service or software. This can be valuable for prospects, clients and even employees that require a simulation training environment.

Updating content on graphic-motion videos is easy as it doesn't require re-assembling a team to do the work. In many cases, changes or updates can be implemented quickly and in real-time.
Graphic-motion video software vendors include Brightcove and SlideRocket. Meanwhile, other vendors such as FPS can create the video for you, helping you craft a script or simply taking your pre-developed script and creating a polished multi-media finished product.
Cons of graphic-motion video:
Graphic-motion software typically requires a significant learning curve, involving animation creation, scripting and timings, etc. That said, if you have in-house experts in using Flash software, you may only need to create or outsource the script content and/or voice-over talent to get your project under way.

Unless you have a library of photography specific to your bank, you may have to use stock photography to illustrate your points.

Your marketing team will need to reach a consensus on issues such as color scheme, music style (if applicable), animation preferences, etc.
There are numerous ways to optimize videos. You can post them to your Web site, on social media sites, in outgoing e-mails and on the business channels of companies like YouTube, BrightTALK and vzaar. Outgoing e-mails supported by technology like that of eROI offer the added benefit of tracking viewers' clickstream behavior. Your sales team can use this market intelligence to promptly follow up with hot prospects and engage them in more relevant conversations related to their business "pain points."

Guidelines to Keep in Mind
Here are some guidelines from "Ways to Dominate Search Results with Video" (Imedia Connection, 2011) that will help you achieve your desired outcome, whichever type of video you choose:
Keep it professional. Today's consumers have a discerning eye and won't stand for low-budget, poorly produced content. Consider hiring a professional for expert assistance. Remember, posting video might help you rise to the top of a Google search, but a sub-par segment won't take long to sink your efforts and could damage your brand image.

Keep it short. Ever felt that heart-sinking feeling when you click on a video, only to discover it is 47 minutes long? Unless it's absolutely riveting, you're probably going to click off early. You need to tell your story quickly. Think five minutes tops, preferably less. Draw in viewers with compelling content, hit them with your message, and then release them.

Include a call to action. Include several links with relevant additional information and invite viewers to click through to those links. Ask viewers to follow you on Twitter, connect on Facebook, or e-mail the video to a friend. Leave them with lots of ways to contact you — Web site, phone number, social media sites and any other place you live online.

Leverage key words. For every video that spreads like wildfire, there are hundreds languishing in the cyberspace graveyard. Use specific key words in your title, subtitle and tags to increase your chances of ranking high in key word searches.
. . .
FPS regularly works with financial services companies to maximize the impact of their client communications, including e-mail and online communications. To find out how we can help you develop effective strategies for communicating with corporate financial executives, contact FPS President Vince DiPaolo at 847-501-4120 x3 or [email protected].
If you are not already a MarketScope subscriber, please request your own free monthly edition.

Overview of FPS clients and services.

View now


Recent MarketScope Topics:

Subscribe to MarketScope

Subscribe to MarketScope RSS Feeds


Join the B2B Financial Services
Marketing Group