The Financial Institution's Guide to Digital Marketing: Part 3
Why Digital White Papers Have Become
a Critical Part of Your FI's Marketing Mix
Digital white papers offer all of the benefits of e-newsletters but work even harder to broaden a financial institution's prospect base and enhance its brand image as a thought leader. What's more, a highly relevant and informative white paper offers a longer shelf life than e-newsletter content. This extended shelf life makes a white paper extremely cost-effective.
Digital white papers can be a marketing workhorse, providing content that remains relevant for six months or longer, and are considered a crucial component in any bank marketer's media mix. The Content Marketing Institute (CMI) reports that most financial institutions understand the importance of including white papers and other content-driven vehicles as primary elements in their marketing effort. Indeed, some 93% of B2B marketers publish white papers, according to CMI's report, "B2B Content Marketing Benchmark: 2010 Benchmarks, Budgets and Trends."
How Well Are Digital White Papers Received?
The litmus test for effectiveness of any content and media channel is how well the content is received by prospects.
White papers have been found to be the most influential collateral shared in the complex sale process, which tends to have a longer closing cycle, according to Eccolo Media's "B2B Technology Collateral Survey" report.
Of the 500 B2B decision-makers and influencers surveyed by Eccolo Media, 71% preferred to read their white papers digitally, rather than in hard copy.
Some 51% of those surveyed said they preferred white papers that ran six pages or less. Meanwhile, 27% found eight pages to be an ideal length for white papers.
When asked what factors would cause them to rate a white paper as disappointing, the top response was "poorly written" content (see illustration below).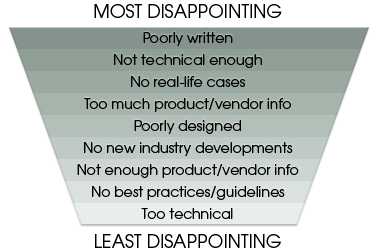 This finding confirms the results of other recent surveys that found quality of content to be the most important factor in determining the effectiveness of marketing materials.
White papers are especially effective during the early stages of the CFO's purchasing process, according to a recently published CMI survey. In a recent article noting the survey results ("Is Your Content Ready for the CFO?"), CMI reports that during the early phases of the buying cycle, financial executives seek content to help them diagnose and illuminate the challenges they face, what strategies can address the situation, and what solutions are likely to deliver the desired outcomes. According to the CMI survey, research white papers were the CFO's top choice for gathering this type of information.
Viral Power
Well-written white papers are extremely viral, with 37% of CMI survey respondents saying they shared such documents with colleagues. Each such instance of shared information gives an institution an opportunity to reach its hidden market and add new high-quality prospects to its e-mail database.
A joint study by KnowledgeStorm and MarketingSherpa confirms the viral power of white papers. On average, respondents share white papers with colleagues 57% of the time, their survey found.
Mixing It Up
Studies show how video is quickly becoming a preferred channel for B2B content delivery. (We will explore the online video trend in more detail in a future edition of MarketScope.) What's more, there is evidence that combining white paper content and video introductions can raise the readership and overall marketing effectiveness of white paper content.
An Eccolo Media survey of C-level B2B decision-makers and influencers found that 45% of respondents had consumed a written piece of marketing content that also contained an embedded audio and/or video file. Respondents said they encountered such multi-media presentations most often in case studies (66%) followed by white papers (55%) and brochures (48%). Perhaps the most dramatic of the survey findings is that an overwhelming 93% of respondents indicated that they clicked through to multimedia files imbedded in text content files. Here's how that 93% breaks down: Some 25% clicked through to video files only; 6% clicked through to audio files only; and 62% clicked through to both audio and video.
How much value can video add to your marketing efforts? When online video is tied to key words, it is 53 times more likely to show up on the first page of search results, Brightcove.com reported in a recent webinar. In addition, Brightcove says, after viewing video content, prospects are likely to spend three and a half as much time perusing an institution's Web site than they would otherwise.
. . .
FPS regularly works with financial services companies to maximize the impact of their client communications, including e-mail and online communications. To find out how we can help you develop effective strategies for communicating with corporate financial executives, contact FPS President Vince DiPaolo at 847-501-4120 x3 or [email protected].
If you are not already a MarketScope subscriber, please request your own free monthly edition.